What you need to know Edit
This armour set is available on our donation store, accessible via. website or doing ::donate ingame.

The set consists of 6 pieces, which when worn together result in a God Boost, giving you a huge amplified ability in combat; that will persist so long as you wear the set, or until it inevitably expires. At this expiry point, the boost will reoccur shortly after.
The "God Boost" will also increase your height and play an animation of fire around your character.
The set itself gives free casts of ancient spells, meaning you can heal yourself while dealing exceptional damage (Noted that it does splash, but it is capable of hitting over 65)!
The Components Edit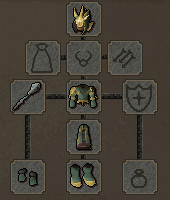 The Celestial Set concists of 6 major components, that must always be worn if you're trying to trigger the God Boosts!
This set is UNBOUND! (Does not have (b) on the end of set pieces names)
The pieces are as follows:
| Item Name | Item ID |
| --- | --- |
| Celestial Hood | (16755) |
| Celestial Robe Top | (17237) |
| Celestial Robe Bottom | (16865) |
| Celestial Shoes | (16931) |
| Celestial Gloves | (17171) |
| Chaotic Staff | (18355) |
As always, if you wish to check for an items ID (Identification Number)
Make sure to type the command below in-game, and then right click said item.


::debug

Quick Summary Edit
The set is also useful out of boost, with the Chaotic Staff removed the stats are still very powerful featuring +86 magic attack! In boost, the set can hit as high as 71!
It's a must have!