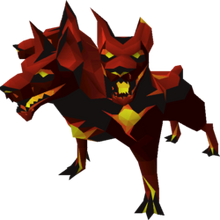 Cerberus is a level-318
multi-combat
boss. It has very high damage output, and a lot of health. Although this may put you off, the rewards can also be exceptionally good. It is recommended to kill Cerberus with a team.
Transport Edit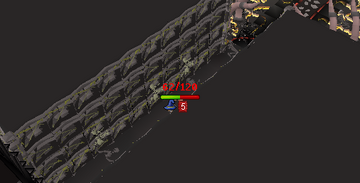 To get to Cerberus is very easy, all you have to do is type the command below into public chat. ::cerb After doing this, provided you meet the requirement of 75 Slayer, you will be teleported directly into the boss fight arena.
WARNING: You may be attacked immediately upon entry of the encounter!
Your friends may also teleport and you will all join the same instance. Fight with friends to reduce the risk of item-loss.
Item

(Name)

Quantity

(Amount)

Rarity

(Drop Rate)

Bandos Statuette
1
Common
Saradomin Statuette
1
Common
Dragon Spear
1
Common
Dragon Chainbody
1
Common
Dragon Platelegs
1
Common
Dragon Boots
1
Common
Abyssal Whip
1
Common
Mages' Book
1
Common
Master Wand
1
Common
Infinity Boots
1
Common
Ruby Bolts (e)
50-100
Common
Dragon Bolts (e)
50-100
Common
Cannonballs
75
Common
Dragon Bones
10
Common
Green Dragon Leather
25
Common
Blue Dragon Leather
25
Common
Red Dragon Leather
25
Common
Black Dragon Leather
25
Common
Shark
200
Common
Rocktail
100
Common
Raw Rocktail
25
Common
Tooth Half of Key
1
Common
Loop Half of Key
1
Common
Crystal Key
1
Common
Mysterious Lamp
1
Common
Seers' Ring (i)
1
Common
Seers' Ring
1
Common
Archers' Ring (i)
1
Common
Berserker Ring (i)
1
Common
Berserker Ring
1
Rare
Argonite Full Helm
1
Rare
Argonite Full Helm (b)
1
Rare
Argonite Platebody
1
Rare
Argonite Platebody (b)
1
Rare
Argonite Platelegs
1
Rare
Argonite Platelegs (b)
1
Rare
Argonite Kiteshield
1
Rare
Argonite Kiteshield (b)
1
Rare
Argonite Gauntlets
1
Rare
Argonite Gauntlets (b)
1
Rare
Argonite Boots
1
Rare
Argonite Boots (b)
1
Rare
Bandos Statuette
1
Rare
Saradomin Statuette
1
Rare
Dragonfire Shield
1
Rare
Spirit Shield
1
Rare
Godsword Blade
1
Rare
Cannonballs
200
Rare
Dragon Bones
50
Rare
Clue Scroll (Hard)
1
Rare
Corrupt Morrigan's Coif
1
Rare
Corrupt Morrigan's Leather Body
1
Rare
Corrupt Morrigan's Leather Chaps
1
Rare
Corrupt Zuriel's Hood
1
Rare
Corrupt Zuriel's Robe Top
1
Rare
Corrupt Zuriel's Robe Bottom
1
Rare
Elder Maul
1
Extremely Rare
Amulet of Torture
1
Extremely Rare
Primordial Boots
1
Extremely Rare
Pegasian Boots
1
Extremely Rare
Eternal Boots
1
Extremely Rare
Dragon Claws
1
Extremely Rare