Slayer is a skill in DoomScape, it involves a heavy amount of combat because you complete tasks assigned to you by the Slayer Masters. For example, one task may involve killing 4 Corporeal Beast.
You gain XP in Slayer each time you kill a monster on task, and the experience varies by the monster. The monsters you are assigned also varies depending on your level, and the master that you use.
You will also gain Slayer Points each time you complete the task you were assigned, these points can be used in the Rewards shop at Vannaka or use the command below in public chat.
::rewards

Getting a taskEdit
You have two options to recieve a task, one is to visit the Slayer Master north west of edgeville Vannaka, there you can interact with him and view the shops he holds, cancel and start new tasks. The alternative to this, is to navigate to your skills tab (Where you view all of your levels, including total level)- and then to click Slayer, and to use that dialogue menu with it's 4 options. This is exactly the same, just a portable Slayer Master.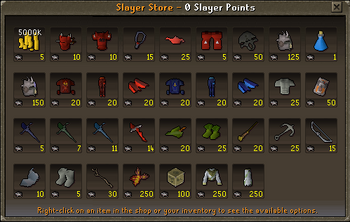 There are always rewards you can be certain of obtaining in Slayer, these rewards are from the currency Slayer Points, obtained from completing Slayer Tasks. The reward shop contains a variety of items, the highlight of the items being Flame Gloves and Third-Age Druidic Top and Bottom. Though, there are many other rewards to choose from.
On top of these rewards, you will receive the loot from the Monster you were killing, and that loot is also a reward from Slayer. It is possible for a player to prioritise loot over experience efficiency, or even both of those over Slayer Points efficiency. You will learn which tasks are best for you as you go, alternatively it is possible a player may contribute a guide: At that point, these guides for Slayer will be linked below.
Player GuidesEdit